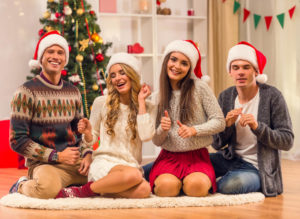 There are times when it feels like the holiday season is an endless merry-go-round of social gatherings, from office parties to neighborhood socials to family get-together. In the flurry of activity, it's easy to feel a little dazed. Some people tend to get a bit uptight, others play wallflower, while others get way too wild.
But it's actually pretty easy to find some merry middle ground. Here are our top tips for having holiday fun — without regretting it the next day.
Do: Let loose
Don't: Let it all hang out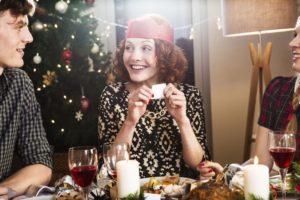 With all the hustle and bustle of the holidays, it's easy to get caught up in trying to make everything perfect. But when it comes to holiday parties, take a step back and remind yourself that Christmas is a season of joy — which means it's okay to let go and have a little fun! Pour yourself a glass of egg nog. Eat an extra cookie. Dance the night away.
Of course, no one wants to be the holiday partier who crosses the line from letting go to losing his mind. With all the stress leading up to the holidays, some people have a bit of a melt-down once the festivities finally arrive. Remember, you can have a good time without getting wild by following a few basic rules: think before you speak, mind your manners and above all, go easy on the booze.
Do: Toast the season
Don't: Get toasted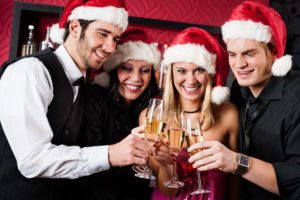 Overindulging on alcohol is one of the fastest ways to kill your holiday spirit. The next day, you'll be haunted by an aching head and churning stomach – and maybe worse. If you said or did anything to embarrass yourself or hurt someone else, you'll be regretting a lot more than your hangover. And who wants to spend the holiday season feeling groggy — or guilty?
And while we're on the topic of drinking, there's one holiday rule you simply can not break: don't drink and drive. Arrange a ride ahead of time so you won't be tempted to tell yourself you're "okay" to drive. Not only will a DUI ruin your Christmas, but an accident could ruin your life — and someone else's.
Do: Make new friends
Don't: Forget your old friends

Maybe it's the mistletoe, but something about the holidays brings out the romantic in everyone. Holiday parties are a great way to meet new people, and most folks people to let their guards down in the spirit of the season.
But if you become preoccupied with meeting a man, you'll end up missing one of the most special parts of the holidays: spending time with favorite people. It's okay to keep an eye out for Mr. Right, but make sure you raise a glass to your girlfriends, too!
The holidays are a special time to get together, reminisce about the past and hope for the future. With a little planning and some common sense, you can make it a true season of celebration.